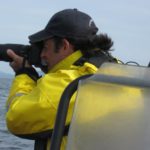 Simon Pidcock
Owner/Captain
Simon has spent his whole life on and around the ocean. He had his first boat at the age of four and grew up in a west coast wooden boat repair yard.
Spending his younger years sailing, fishing and exploring the waters around Vancouver Island gave him a great respect for the Salish Sea.
Simon's passion for the ocean and everything that inhabits it shows from the minute you meet him, he truly loves what he does.
Simon is also an avid wildlife photographer. He has the uncanny knack for being in the right place at the right time to capture those unbelievable moments. 
Ocean EcoVentures was born out of Simon's passion for the ocean, whales and photography.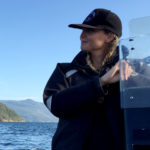 Tasli Shaw
Captain/Videographer
Tasli started her marine eco tourism career over 10 years ago and has been a captain with Ocean EcoVentures for the 4 years.
Tasli is also an amazing artist who draws inspiration from her time on the water with the whales and wildlife of the Salish Sea.
Tasli has spent countless hours observing the marine mammals of the Salish Sea and uses these observations in the studio to create allegorical, narrative works based on the individual stories of the creatures that call the coast home.
Tasli currently splits her time between the studio, whale watching, and contributing to marine mammal photographic identification projects.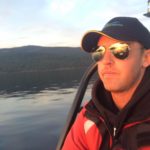 Gary Sutton
Captain/Photographer
Gary started driving whale watching tours part-time for Ocean Ecoventures in 2015. He has been a whale watching captain for the past eight years for a company out of Vancouver prior to joining our team as operations manager.
Known as one of the leading captains out of Vancouver we were very pleased when he made the jump to Vancouver Island and Ocean EcoVentures.
The whales, wildlife and photography of the Salish Sea are Gary's passions. His enthusiasm is contagious while his calm and thoughtful dialog gives our guests an added understanding of wildlife conservation. Gary eats, breathes and photographs the wonderful Salish Sea that we call home.
For 2021 Gary is moving into the cetacean  research realm where he will be a huge asset to Oceanwise's research team. Gary is hoping to be able to continue being a part time captain for Ocean Ecoventures.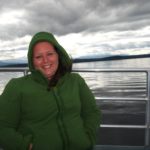 EJ Christiano
OfficE Manager
First and foremost E.J. is a self confessed Orcaholic, she manages to always find her way onto our whale watching boats for our 5pm tours after she finishes up work for the day.
E.J. became Ocean EcoVentures office manager in 2015 but it's like she has been working with us from day one. She eats, lives and breathes Ocean EcoVentures!
E.J. is most likely the voice on the other end of the phone when you call with questions or to book with us. She is the smiling face that checks you in and makes sure everything runs smoothly on a day to day basis.